Dental rehabilitation
in one visit

to the dentist
Crowns, inlays and dental veneers in one hour
Dental restoration, recovery of the aesthetic and functional aspects of the affected teeth, in a single treatment session of one hour, is possible through the use of digital technology.
Digital treatment methods offer an impressive number of advantages compared to classical methods:
Eliminate impression errors. Imprinting is done digitally resulting in a high fidelity optical impression;
Reduce the treatment period from 10-14 days (classic treatment) to 1 hour. Prosthetic work is done without the help of the dental technician.
Decrease the number of visits in the dental office, from 3-4 in the case of classical treatment to only one. Try-ins are no longer necessary. Dental restorations are digitally designed and milled in the dental office)
100% Digital – 100% Benefits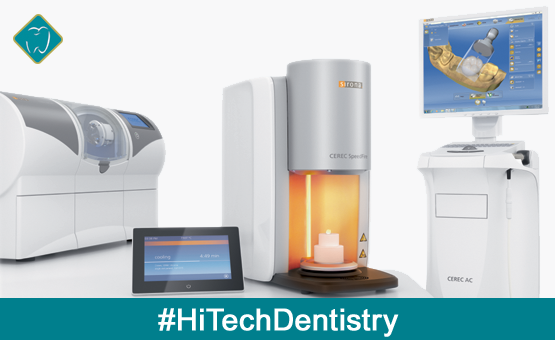 How crowns, inlays and dental veneers are made in one hour?
Treatments such as dental crowns, dental inlays, dental bridges dental bridges made traditionally over periods of time of around 10 days, coupled with multiple visits at the office can be done now at Smile Experts in one visit lasting one hour , with CAD-CAM technology, Sirona Cerec AC Omnicam.
Sirona CEREC AC Omnicam system
Sirona CEREC is an integrated system, based on a high-resolution camera, a performing computer, a 3D milling machine and a special furnace that enables the doctor to perform the prosthetic work directly in the dental office, right in front of the patient.
1 hour dental restoration workflow
Using a hi-res video camera, the surface to be treated is optically scanned;
Based on the high fidelity impression, the three-dimensional model of the prosthetic work (crown, inlay, bridge or dental veneer) is projected using an advance software;
The design is transmitted automatically (wireless connection) to the milling machine, which will manufacture (mill) the prosthetic work from a superior ceramic cube;
The resulting prosthetic restoration is applied using a special cement
Price of dental crowns and inlays made at the practice in one hour.
At the Dental Clinic Smile Experts, in one hour you can receive ceramic crowns or inlays at the same price with the treatment performed in the laboratory in 10 days.
| | |
| --- | --- |
| DENTAL PROSTHETICS CAD-CAM | RON |
| Full ceramic dental crown anterior tooth | 2.000 |
| Full ceramic dental crown posterior tooth | 1.700 |
| Full ceramic inlay/onlay | 1.200 |
Financial solutions
Our patients benefit from financial consultancy and tailored solutions: The treatment is accessible through 3 financial solutions for payment in instalments:
payment in 24 INSTALLMENTS without interest through Raiffeisen Credit Card or Alpha Credit Card;
NEW: payment in 24 INSTALLMENTS without interest through Ing Credit Card;
payment in 12 INSTALLMENTS without interest through CardAvantaj or StarBT;
payment in 18, 24 or 36 INSTALLMENTS through Optimo Card;
low-interest medical credit and extended repayment period up to 60 months.
The financing solutions are offered in partnership with five banking institutions offering a major advantage to the patients: flexibility in choosing the financial services provider. This way, there is no need for you to postpone or schedule the treatment you need for financial reasons!
Choose your dental rehabilitation
in just one hour!
10 Reasons to Choose Digital Dentistry at Smile Experts
1. Total comfort (impression without using silicone material);
2. Superior aesthetics;
3. Perfect match;
4. Immediate treatment (temporary works are no longer required);
5. Made of high quality ceramics;
6. Natural look;
7. Durable treatment;
8. Certified safety of the medical act at EU standards;
9. Fast treatment: one visit at the dentist's office;
10. Same price like the one of classic restorations (manufactured in the laboratory in 10 days).