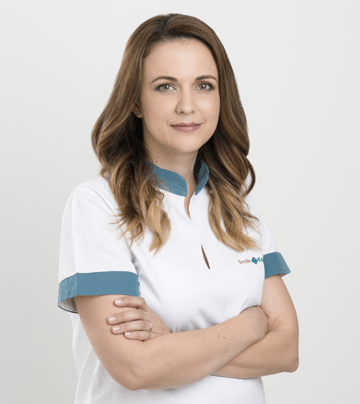 Every successful project starts with a dream.

My dream was to provide my patients with a place where they can solve their dental health problems in a safe and friendly atmosphere, a place where they go and come back to with pleasure, without experiencing the so called "dentist phobia."
The next step was a plan guided by the wish to succeed.

After an 8-year experience, in 2012 I decided to open the Smile Experts Dental Clinic, where a team of fully trained professionals using state-of-the-art technologies offer patients the guarantee of obtaining and maintaining their dental health in the long term.

In 2016, we expanded the capacity of the clinic along with significant investments in technology.
In order to provide our team with the instruments required for performing high-standard medical treatments, endowing the clinic with high-performance equipment and the latest technology is and will remain our priority for the future.
In terms of medical care safety, we implement here in Romania the highest standards in the EU as well as the guidelines recommended by the "Best Practice" guides prepared by international certified bodies.

We own state-of-the-art technologies for instrument cleaning / decontamination and sterilization, available now, in accordance with DIN EN ISO 15883-1 and 2 and EN ISO 13060.

Dental health problems may be extremely diverse, and solving them in an integrated manner requires expertise in several fields of dentistry.

The Smile Experts team is made up of highly trained doctors with proven expertise in all fields of dentistry.

All that we do is based on our simple core values:
We are responsible for the dental health of our patients.
We adhere to the highest medical standards.
Our patients' smile is our reward.
Inspired by our desire to offer high-quality medical services, and confirmed by our patients' experience, the motto which guides all our activities has become:

"Smile Experts Dental Clinic, the place where treatment leaves you with a Smile."
Dr. Andreea ALEXANDRU