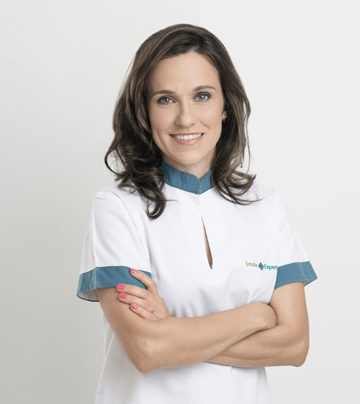 Mrs. Sorana TECUCEANU, MD has been a member of the Smile Experts team since 2012.
Graduate of the Department of Dental Medicine, "Titu Maiorescu" University.
Mrs. Sorana Tecuceanu, MD is a certified specialist in orthodontic treatment with the INCOGNITO® hidden braces and INVISALIGN® clear braces.
Her professional achievements and continuous professional training recommend her as a specialist in the orthodontic treatment.
• The Incognito Lingual Bracket System Certification Course
• Wire bending the orthodontic art form, Romania
• Orthodontic Seminars of California Dr Larry Brown
• Orthodontic Mechanics, Prof. Dr. Gerald Samson
• Diagnosis, treatment planning and treatment mechanics, Prof. Dr. Richard McLaughlin
• Planning and effectiveness of orthodontic treatment, Prof. Dr. Richard McLaughlin
• Contemporary Approaches in Dentofacial Orthopaedics, Prof. Dr. Tiziano Baccetti
• Optimal timing and effective protocols in the treatment of skeletal and dental anomalies, Prof. Dr. Tiziano Baccetti
• Improving orthodontic treatment, Prof. Dr. John Bennett