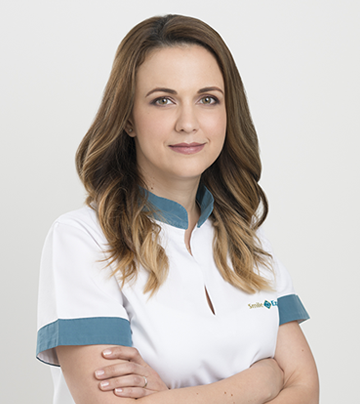 Mrs. Andreea ALEXANDRU, MD
Mrs. Andreea ALEXANDRU, MD is the founder of the Smile Experts dental clinic.
She is a graduate of the Department of Dental Medicine, "Carol Davila" University of Medicine and Pharmacy, Bucharest.
She has continued her training to acquire expertise in Periodontics and Implantology.
Is member of: Romanian Society of Periodontology, European Federation of Periodontology and Society of Esthetic Dentistry in Romania.


To offer her patients the most up-to-date solutions for treating their dental problems, Mrs. Andreea Alexandru, MD actively participates to lectures, meetings, conferences and symposiums, in Romania and worldwide:

Periodontics
• MASTER course in Regenerative and Aesthetic Periodontal Therapy, Bern 2013;
• International Osteology Symposium, Monaco 2013;
• New developments in periodontal therapy, course taught by Prof. Dr. Anton SCULEAN, Chairman of the Department of Periodontology, University of Bern.

Implantology
• Intensive training course on modern dental implant therapy concepts: immediate fixed restoration with Bredent SKY Fast & Fixed system, Ulm/Senden – Germany 2014;
• Advences in Implantology, Periodontics and Aesthetics, New York University College of Dentistry Program, Bucharest 2014;
• International Conference on Aesthetic Dentistry, Implantology and Periodontics – The 2013 DentalXP Global Symposium, Las Vegas;
• Implantology – The Bone Ring technique, new perspectives in augmentation, course taught by Dr. Bernhard Giesenhagen, University of Kiel, Germany.

Dental aesthetics
• Digital Smile Design course, taught by Dr. Christian Coachman, Timişoara 2013;
• Complex Aesthetics Rehabilitation, taught by Dr. Domenico Massironi, Bucharest 2013;
• International Congress on Aesthetic Dentistry, Bucharest 2012, 2013.

• European Endodontic Summit, Bucharest 2013